Managing Remote Workers Is Difficult. These 25 Tools Make It Super Easy.
With 35% of US workforce now classified as freelancers, businesses are adapting to the challenges of managing remote workers.
Collaborating with remote workers and building a unified team is difficult, but can be extremely rewarding and cost effective. You need to use the right tools and processes to maintain high productivity, morale, and creativity levels.
Communication and productivity tools are important for managing remote employees because they enable you to better organize the team and keep everyone on the same page.  They also help employees to execute without you having to look over their shoulders all the time.
We researched dozens of tools to find the most useful tools for managing remote workers. You can filter through the list to find the best ones for your business.
Check it out:
Project & Time Tracking Tools
1. Asana

Asana is one of the simplest project management software around. Asana allows you to organize to-do lists, projects & meeting information, conversations, and emails in an easy-to-read dashboard. Team members can stay on top of all information allowing you to quickly identify issues that need your attention.
Asana is especially useful for managing remote workers or contractors as they are able to stay in touch with the rest of the team. Asana is free for teams up to 15 members. You can get access to all features like data export and additional dashboards by upgrading to paid plan.
User Review – Steve R at BRUNNE:
"I absolutely love the user interface – it's pretty seamless across mobile, tablet and desktop. It's pretty intuitive to the average non PMP-certified person. Drag and drop allows me to easily merge or separate personal and work tasks. Of course, it's fast and free so that always helps."

2.
Bitrix 24
Bitrix24 is a suite of social collaboration, communication and management tools for your remote team. It combines social media with project management, CRM, and document sharing. It allows team members to interact with their work in a social-media inspired manner. When you have remote employees in your team, staying connected with them outside work can be a challenge. You can use Bitrix24 to communicate with remote employees in a social setting while still being able to effectively manage the project. You can also use the free mobile app to improve accessibility.
User Review – Emrah A at Eğitim Merkezi:
"Bitrix has got a lot of features such as social network, drive, chat, task and project module etc. so it looks like handy. It has got self-hosted and cloud versions. If you prefer self-hosted version you can pay one time and you will get lifelong license. Also there is mobile and desktop application. Application is compatible with Linux and Mac. Also Mobile application is compatible with iOS and android. It has got great support. You can connect Bitrix to your Active Directory service."

3.
HiveDesk
HiveDesk is one of the most popular software for managing remote workers and virtual teams. It is a time tracking software with screenshots, activity levels and productivity reports. It has a simple, intuitive user interface to easily manage your projects, assign tasks, track time and even grab screenshot of worker's computers.
HiveDesk provides a platform that makes it easier for businesses to manage remote staff. Employees can check-in remotely and HiveDesk will log their work sessions. It makes sure that you get the desired level of productivity.
For outsourcing companies it's a great tool for both employee monitoring as well as for backing up invoiced hours. Many digital marketing agencies use HiveDesk to manage remote workers and contractors. HiveDesk provides complete transparency to their clients and builds trust in their services.
The most easy-to-use, task-oriented software for your team to collaborate no matter where they are located.
User Review – Phil from Brickman Group:
"I think the product is exceptional. It will optimize work from different aspects and bring employees together easier. I would most definitely use this product."

4.
TeamLab
TeamLab is a free Project management platform for small to medium-sized companies. Collaboration is possible by the means of task delegation and human resources allocation. Using TeamLab is like having a social network within your company. Collaborate with your remote team with TeamLab for task delegation and look up on the information about the time spent on a particular task to track milestones, tasks completion.
Pricing starts at $300 up to 10 Users.
User Review – Alexander Thornberg:
"We came across Teamlab Office in search for a document management alternative to MS Office suite. To our surprise the system turned out to be a lot more comprehensive than we thought it would be. Not only did it fully replace our document management suite, but also offered us a number of excellent interconnected business tools like CRM, Calendar and Project Management. One thing it definitely lacks – is the native mobile app (it is still available on mobile devices though, but the usability of the mobile version of the suite is far from being convenient). However, for the yearly subscription price of $1000 for 30 users you know exactly that you are making your money go as far as possible. A firm 5 star rating for the overall performance."
5. Basecamp
Basecamp is one of the most popular an easy to use project management and communication tools around. It claims to have over 100,000 customers of varying sizes. It has a web based interface for project, task & time management, team collaboration and reporting. It eliminates the need for teams to have separate tools for project management and communication. Everything is accomplished inside Basecamp.
Basecamp can significantly reduce the complexity of managing a team of remote workers.The first project is free but if you want to set up a second one, pricing starts at $29/month.
User Review – Kit Mullins at Jemully Medias:
"Works fabulously! As a business owner, I love the easy way Basecamp coordinates tasks, communications, and project calendars while integrating with Tickspot – our time keeping app. I like the overview of all projects, or tasks. I can look at assigned tasks from the perspective of the project, from the perspective of the user the tasks are assigned to, or from the perspective of the due date. We currently use Basecamp 2 and have signed up for Basecamp 3 which offers even better team support and functionality. 
Custom Templates for project creation. Email directly to a project. File storage, text docs, tasks, and discussions all in the same project. Fantastic customer help/support. Quick and informative."
6. Trello
Trello is a project management tool that makes collaboration fun and makes it easy to manage remote workers. Ditch the sticky notes, spreadsheets and email for managing your projects, hook on to Trello. It allows you to add as many boards and people as you want with your free account.
Pricing for business plan for App integrations, team overviews, and security starts at $ 8.33 per User/ Month
Sign Up for Free Trial

User Review – Pall Musaev tells:
"I love the visual nature of Trello and how easy it is to manage tasks and assignments. I use it on a personal and business level and like how both can meld into one interface. Very visual and easy to use. User experience is good"
Communication Tools
7. Slack
Slack is a team messaging app. It's great for any team but more so for teams with remote employees or contractor. It brings all your communication into one place and integrates with your tools you already use. Setting up Slack is easy and using it is even easier. It's your virtual office and using Slack is like sitting in a room with your team members.
User Review – Andrew M. at CSPO:
"Slack functions like my own personal Command Centre. We can chat, I embed/upload files, and I have integrations with the other services I use, such as JIRA and GitHub that allows me to see what's going on with the requirements I enter and what deployments / pulls happen when. Additionally, we also use it for fun with a Twitter integration where we follow the various food trucks from around the city to help the dev team determine where they want to go to lunch."
8. HipChat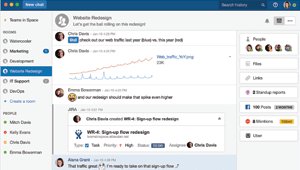 HipChat is an online team Communication platform, it has features similar to Skype, but specifically caters to the business community. You can communicate and share files on a private network, where you can collaborate on major projects and keep the remote team connected. The first 30 days are free, but the following months will cost $2/person.
User Review – Shayne V at Apriva:
"I love the HipChat program to stay connected with team members within our organization. The ability to create private and public rooms is great and its integration with JIRA is a definite plus. Whenever relevant user stories, defects, etc. are created/updated they are published to our current QA room. This helps to notify team members quickly that a new issue has surfaced or is being worked on."
9. Hackpad
Hackpad is a web based open source collaborative document editor.  You can use Hackpad to take notes, share files or record an audio. In a distributed team, remote team members can take notes and share thoughts with other members. Everyone on the team gets access to all the pads. The pads are simple and uncluttered so you can easily write down thoughts and comments. You can collaborate and communicate quickly and easily.
User Review – Jorge S at The Marye Firm:
"Probably the best feature of this application, has to be the live synchronization with other users at the same time. I believe it may makes it unique"
10. Zoom
Zoom is a Video Conferencing and Web Conferencing software. It enables up to 50 participants on a video conference for free! (Skype limits it to 10).
If you need to hold an online meeting with more than ten remote workers, you might try Zoom. For $10 a month (or no charge if you can keep your meeting to less than 40 minutes), it lets you include up to 25 participants. And like Google+ Hangouts, Zoom works on your mobile device. Zoom also supports HD video and audio.
User Review – Eddie Hanson at Transportation:
"This easy to use, easy to deploy and easy to manage application has saved our agency time and money compared to our old video conferencing solution."
11. Rapportive
Remote workers miss the social bonding opportunities that collocated employees take for granted. You can bridge the gap to an extent by getting the remote employees to interact with the rest of the team on online social networks.
Rapportive is a free Google Chrome and Firefox plugin that shows you details of your contacts inside your Gmail account. Your team members can use it to find social profiles of other team members and connect with them without you having to create a system for sharing this information.
User Review – Joey S at Omnify Software:
"This is hands down my favourite tool for checking a potential lead's email address. When trying to determine contact information for potential customers this add-on is invaluable! It is also free which makes it a no-brainer for anyone that is frequently trying to contact management of companies they may not have the information of."
12. Jing
Jing is a screen capture or screencasting tool from TechSmith (guys who make Camtasia). Its great for capturing short video clips of your computer screen and sharing online. Your remote workers can use it to share ideas, create training videos or share problems using Jing. An employee in Madison, WI having trouble debugging a piece of code? Just screencast the problem and share with the team members in Bay Area to figure out what he may be missing.
It is a free app for PC and Mac so there is no excuse for not using it to help your remote team members.
User Review – Ricardo Soria:
"Jing is a very handy tool you can use to take snapshots and record videos from any portion of your screen. What is really special about Jing is that it allows you to share your recently created snapshot or video instantly through Screencast.com, without requiring to save the file first and upload it manually."

13. Skype
Skype is a communication and collaboration tool that combines video, voice and text chat. Skype keeps you connected with the entire team for free. If your team size is small, Skype can be a great communication tool from communicating with remote team members. You can include up to 9 people in a call.
You can also buy Skype credits or subscription to call others on their phone or forward calls to your phone. In any business, there are times when you need to take out the phone and call someone up directly. Skype credit can be handy for those situations. It can cut down your long distance and international calling costs significantly.
Pricing for Skype business starts at $2.50 user/month.
User Review – Patrick Clements at SherpaDesk:

"Great for inter office communication. We use Skype to handle communication with our virtual team. It's been a fantastic tool to screen share, pop on a call or get some quick feedback on a question."
Productivity Tools
14. Google Apps
Google Apps is a suite of productivity applications hosted in the cloud. You can create spreadsheets, documents and presentations that are stored in the cloud.   Since everything is stored in the cloud, it can be easily accessed by anyone from anywhere, making it a great fit for teams with remote workers. Managing Google docs is easy – you can restrict access to people using their Gmail. The best part- it's free. You can even host your business email with Google but it ain't free.
If you are managing remote teams, Google Apps is one tool you cannot ignore.
User Review – Derek R:
"Gmail is pretty much the perfect email client, and I'm sure most of you have used it. Either for your personal email, work email, or school email.
Everything is customizable, which means you can make it just how you like it. You even get themes to customize the background and the text and stuff. They recently added CSS support for custom themes that you write yourself.
Google Docs is pretty much the only online office suite, so I can't find any reason not to recommend it. Good collaboration tools, easy to use, etc. It's a Google product, it works."
15. Dropbox
Dropbox is one of the most popular ways to manage your files. Whether you want to keep your personal files in one place or share files with your global team, Dropbox is your solution. Files on Dropbox are backed up and synced which can be accessed from desktop, mobile or laptop. Your important data and documents are always with you for free, up to 2 GB of storage or upgrade to a pro version with 1 TB storage for $9.99 /User a month.
User Review – Brian Lawrence at CTI Clinical Trial and Consulting:
"Dropbox is the Best Way to Store Documents. I have been using Dropbox for many years, and i love the ease and versatility of it. The ability to save documents and easily access them from any of my devices, smartphone, tablets, work or home computer is awesome. It is easy to organize with folders however you would like and to search."
16. Office 365
Office 365 is a Microsoft product. It's your favorite suite of Microsoft office products, offered as a web based service You can access all popular Office tools such as Word, Excel and PowerPoint.
With Office 365, you also get 1TB of online storage for each user to store files and data. Each license allows you to use Office365 on desktop / laptop, mobile phones and tablets. You can activate up to three devices for each user making applications and files available seamlessly across the devices.
It's an easy way to make sure all your remote workers have access to the same software. The online storage allows for easy collaboration between team members irrespective of their physical location.
Pricing starts at $ 7.38 per user/month.
User Review – David A at NoBlue:
"The ease of access and single version approach that this brings. Microsoft have finally made sense of the ongoing subscription and upgrade process. All of your favorite office admin tools at your fingertips."
17. Docusign
DocuSign is a Transaction Management software. It provides a simple and secure way to electronically sign documents and collect signatures from others. It eliminates the cost, and hassles of printing the document, signing it and scanning it back to be ready to send. It saves a lot of time and is super easy to use.
If you hire o manage remote employees, contractors or consultants, you can use Docusign to streamline the process of signing the paperwork. No more hassles and costs of physically shipping documents for signature. You can also link DocuSign with your Gmail account to open documents in DocuSign and bypass everything else.
Pricing starts at $10 User/monthly
User Review – Paul Hyde at LateRooms.com:
"We use Docusign for the circulation of documents that require signatures from our Board level staff. They frequently travel so Docusign has taken the pain away of chasing paper and in some cases incurring courier costs. The system is incredibly easy to use and works very well on mobile devices (we use a split of iOS and android). We are also planning an integration with our contract management system to allow an automated flow of documents from docusign into our contract management systems once signature has been completed.
Incredibly easy to use Works on mobile devices End users can understand the system and adopt it quickly Cut costs on paper and courier fees"
18. World Time Buddy
World Time Buddy is a time zone converter, a world clock, and an online meeting scheduler. It is one of the best productivity tools for teams working across different time zones. Not sure if it's the right time to call the team member in Sydney, Australia? Just look at World Time Buddy to know what time it is in Sydney. For teams with multiple remote workers working in multiple time zones (a globally distributed team), World Time Buddy is a great tool.
It has a free plan which allows up to 4 locations. You can upgrade to the silver plan with 20 location at $2.99 per month.
User Review – Dcrash dummy:
"The free version covers 3 time zones. Anyone who has to schedule calls or meetings in multiple time zones knows what a pain it can be, especially when crossing date lines and multiple time zones. Trying to remember who is 1 day ahead and 4 hours back versus who is 5 hoursbehind this spring but only 4 hours in the fall. All that high school math makes one's head hurt This cool tool gives you an easy to read graph, you plug in the various locations and move the bar across the graph to see what time/day it is in the other locations. Simple easy and does the job."

Development, Social Media & Other Tools
19. Cloud9
Cloud9 is a development environment hosted in the cloud. It allows developers to code and collaborate with the rest of the team. If you are managing a software development team, Cloud9 is a great tool to get your developers to collaborate. But the best part of the solution isn't collaboration – it is the hosted development environment. Software developers requires powerful machines that coat a lot of money. These development machines are also difficult to administer remotely. It is a big problem for distributed software development teams as remote developers may not be able to maintain the machines themselves.
Cloud9 overcomes that problem. With the development machine hosted in the cloud, the developers can log in from anywhere using any computer. They write, store and test the code in the hosted computer eliminating the need to buy and maintain expensive computers.
Cloud9 pricing starts at $19 per month/User.
User Review – Ben Nguyen at kaarem.com:
"You guys are doing a great job. I could code locally but my c9 environment feels so much more productive because of the features."
20. Meldium
Meldium is a team password manager. You can use it to share passwords with people in your team across the world. Getting your team on Meldium means you have control over who has access to which applications and resources. Medium does not expose passwords to team members; instead, it offers single sign-on so they can log in with one click without ever seeing the actual password.
It works with Internet Explorer, Firefox, Chrome, iOS and Android. Pricing starts at $29/month for up to 20 users.
User Review – Elizabeth Alexander at The Economist:
"Meldium offers our team a superb way to manage the passwords for the dozens of apps we use."
21. GitHub
Github is a software project management tool specifically suited for small and distributed software development teams. You can manage versions of source code, create wiki for knowledge sharing and use the built-in ticketing system for bug tracking.
There is a free version but you should take a paid plan unless you are working on an open source project you want to share with the world. Your remote developers from anywhere in the world can check-in their code or access code written by others. You can use the wiki to make sure everyone in the team has the correct information and knowledge to work on the project. The ticketing system allows you to effectively manage the entire project in GitHub by creating and tracing tickets for tasks and bug fixing.
You can also integrate GitHub with third party tools, from project management to continuous deployment, for building software in a way that works best for you. It can be accessed on Windows Desktop, Mac & Mobile.
Pricing starts at $10/month for up to 10 users.
User Review – Marc Morel at groupe Green & Biz / Remade In France:
"Best code sharing tool for open source project. Github is a state-of-the-art git-hosting service (well, actually they invented that concept). Very easy to use, to collaborate and to host code. Nice interface and well-documented features"
22. Groove
Groove is a Customer support collaboration Software. With Groove, you can collaborate on all your customer emails, social media posts, chats and calls together in one helpdesk. If your support team has remote employees, you can use Groove to simplify the workflow and access to information for the remote employees.
Pricing starts at $15 per month/unlimited user or restrict users to 3 and it's free.
User Review -Martin Boze at MultiMerch:
"The most easy to use and transparent support app, We've been switching from our previous (free) support system over to a new one lately. After testing a dozen of different services in process, we instantly fell in love with Groove in just a few days of live usage – especially with the clean and modern interface and the knowledge base functionality. Even though Groove lacks a few minor features, we've been informed they are on the roadmap already. In addition to this, Groove's got the most responsive and friendly team we've ever encountered, which is great and makes a lot of sense for a company creating a support system. Definitely not going anywhere anytime soon!
Clean and modern interface – Awesome knowledge base functionality – Great support and development team – Overall ease of use – Lots of integration possibilities – Best value for money"
23. Buffer
Buffer is a social media management and post scheduling tool. It's  the easiest way to share on Twitter, Facebook, Google+, LinkedIn! Schedule your updates to post at optimal times even when you're not around. It's great for digital marketing agencies with remote workers. Now your remote workers can schedule social media updates for you to review and approve. Once approved, the updates are posted to authorized social accounts at the pre-decided schedule.
Start for free or pay a $10 per user for the pro version.
User Review – Matthew Ferris at Gupta Media:
"Buffer saves time when you need it. For those who need to schedule their social media posts and are looking for a simple to use tool, Buffer is great. Don't expect any frills, just basic capabilities.
Very easy to use. Easy to sign in with your Twitter, Facebook, LinkedIn and Google+ pages and instantly post updates to your social media platforms. Like the ability to schedule posts in advance so you can set yourself up for the day/week."
24. Kapost
Kapost is a content marketing software. It's a very specialized tool for managing your content marketing.
The software helps you understand which content is working and which one is not so you can improve your content marketing efforts. Most content marketing teams use remote writers – employees or contractors who research and write articles, create infographics or posts for social media. Kapost helps you in managing remote writers by making sure everyone knows what content is to be created. It is a great tool for digital marketing agencies who outsource content writing work to remote workers.
At $800/Month, Kapost isn't cheap but who said effective content marketing is cheap.
User Review – Lisa M at SolidFire, Now Part of NetApp:
"Kapost has helped our team seamlessly coordinate production of content. With a lot of content in production it was previously very tough to keep track of what was being produced and what was in the pipeline. With Kapost it is much easier to keep track of your tasks and see when content goes live."
25. HighRise CRM
Highrise is a simple CRM Software tool that helps you stay organized. You can share contacts with your team, track tasks & set reminders, and manage communication all in one place.
It helps a remote team keep track of all team conversations, and be able to quickly put each contact in appropriate groups. If you have sales folks working out of other offices or remote locations, HighRise can be an effective tool to keep everyone on te same page for each prospect or lead.
HighRise has a 30 day free trial. Paid plans start at $49 month for 15 users.
User Review – Dmitrity L at Crystalnix:
"Easy to track all clients' histories and keep their contacts in the same place. Easy to find something connected with a particular customer and assign a ticket to a sales manager."
Bring transparency and accountability.
HiveDesk is Free for 14 days.