GPS Time Clock and Tracker App for Field Employees
HiveDesk is a GPS time clock and timesheet app with task tracking. Perfect for field workers who need to track time when working outside office.
Easy to use GPS location and time tracking app
Add team members to your project 
Track time spent at work location
GPS time tracking for field employees
See where employees are working
HiveDesk mobile app tracks location of your field employees, (requires user permission). The location tracking is integrated with time tracking so you can see employees' work location with each work session.
GPS time clock is super useful for businesses where employees work outside the office. It shows you where each employee was when the person logged a work session.
Monitor employee tasks
Create and assign tasks to employees. HiveDesk tracks how much time employees spend on each task. See which tasks are on schedule and which ones are at risk of missing deadlines.
Use the task level information to identify employees who need more help and training in doing certain tasks.
Bill clients with confidence
Track how much time employees spend at each work location. Use this information to bill your clients accurately for the work done at their site.
How to track location, time, and tasks of your team?
Create your free HiveDesk account
The first step in tracking your team's location, time, and tasks is to create your free HiveDesk account. You will need your email id to sign up. 
Set up project and add people
Create a project and add team members to it. Add the name and email of your team members to invite them to work on your project.
Add tasks and assign to team members 
Create tasks and assign them to team members. You can organize tasks by sections within the project. Once you assign tasks, your employees will be able to see them in their mobile app when they start tracking at the work location.
Track location, time, and tasks
Your team members select the task on their mobile when they start working at the work location. HiveDesk automatically records the amount of time the employee spends on the task and the location. It uses the phone's GPS tracker to identify work location. The employee needs to grant permission for GPS time tracking to work.  
You'll see the task status and time spent on your dashboard. You'll also see the work location along with the work session logged by the employee. 
What our customers are saying about us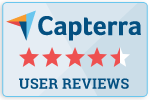 "Great tool for outsourced staff!"
HiveDesk is an amazing tool for business owners that are using outsourced staff. It gives you the ability to see the screen shots of what your staff is doing as they are logged in, report hours, keep them accountable, organize your time by projects and print off payroll reports.
– Brook B. Owner
Executive Office, 1-10 employees
Used the software for 6-12 months
"Keeps honest people honest."
In today's world, remote work is a given. We use this software to handle those challenges. We tried a lot of the competitors and for many reasons HiveDesk won. Plus, team loves their support. Fast and attentive.
– Dave M. CEO
Computer Software, 11-50 employees
Used the software for 2+ years
Try HiveDesk free for 14 days. You don't need a credit card for the free trial.