Time Tracker App – track time from any device, anywhere
A Time Tracker app makes employee time tracking for payroll and billing easy.
Automated time tracking brings accuracy, accountability, and transparency to the business. It's one of the most popular employee monitoring and productivity apps. It's much more than the typical attendance or time card software.
How a time tracker works:
Employees use a desktop app on their computer or a mobile app on their phone for keeping track of how they spend time at work.
Reduces errors, brings accountability & transparency, and eliminates time theft by automatically tracking time
Improves employee productivity
Increases profitability by preventing time theft
Builds trust with clients because of accurate timesheets backed by screenshots
Monitors how your employees spend time at work and what they do
Monitors employee attendance
At just $5/user/month, HiveDesk is the most affordable and easy-to-use time tracking app.
Want to know if your team is actually being productive? HiveDesk time tracking makes it easy to manage your team.
Work smarter, not harder with automated time tracking
Say goodbye to manual time entry, Excel timesheet templates, and paper timesheets. Make your employees accountable for their timekeeping with a time tracker app.
They log their time and keep track of their tasks using a desktop, tablet or mobile application. All they need to do is start the app and select a project when they work.
You will see an immediate jump in productivity when you start tracking time as employees become conscious of the fact that you are monitoring them.
Turn time into money with time tracking app
Stop "guesstimating" time, it's costing you money. Accurate time tracking is effortless and efficient with a good time tracking software.
Pay employees for actual time worked. Automated time keeping means no more overpayments!
Capture every billable minute to ensure you invoice clients for every minute worked.
Create reliable cost estimates for projects to make sure your bids are profitable.
Add hourly rate for each employee to keep track of labor cost for each project.
Track unproductive time and turn it into productive time by monitoring employee activities.
Gain valuable insights about your business
Know who are your best-performing employees and projects. Measure productivity of remote employees.  
Get detailed reports that will help you make better decisions, improve your business and grow profits. Identify which clients make (and cost) you the most $$$.
Find out who are your most productive employees. Monitor employee hours to avoid overpayments and costly overtime. See who brings in most money to your business.
Monitor employees working remotely or from home
A time tracker app is an excellent employee monitoring software for remote employees and those and working from home. A simple time tracker like HiveDesk is both easy to use and affordable:
Assign and track task completions to monitor employee output. Make sure your team is meeting client expectations by monitoring task progress.
Review screenshots of employees' computers to check if they are doing what they are supposed to. Convert screenshots into a powerful tool to help remote employees become more efficient and productive.
Monitor employee attendance
Track employee productivity
Simple team and project planning
Create as many projects as you need and add team members to them. As team members log their time, you can see how they spend their time between projects. You can see the total hours logged for each project by day and by each team member.
Assign tasks to team members to manage their work. See which tasks are complete and which ones are overdue. Know who your star performers are and who need a push to up their game.
Track employee attendance – if an employee does not log time, mark him/her absent for the day.
See who in your team is productive and who is not.
Effortless time tracking and reporting
Employee time tracking should be easy so your team can log time quickly and accurately. Paper or Excel timesheets are slow, cumbersome and inaccurate. Will your employees remember what they did on Monday when they start filling the timesheet on Friday?
That's why you need a time tracker like HiveDesk for automated time tracking. It's the easiest time tracking app you can find.
Your employees only need to select a project when they start the work. HiveDesk automatically collects time and activity information and logs it in our servers.
Automatic time tracking makes it easy and accurate. Detailed reports by employees and projects give you the true picture about billable time, how much to pay employees and how your projects are doing.
HiveDesk also tracks activity levels and classifies time into productive/unproductive time. If your employees do data entry or similar work, this is a great way to find out if they are being productive or not.
Compare employee performance and productivity with detailed information about how many hours they work, their activity level, and their output.
Increase productivity, take screenshots, track time and cost, and bring accountability to your team.
What are the features of a good time tracker app?
A great time tracking tool should have these features:
Automatic employee time tracking – the app should track time automatically and be effortless to use.
Ability to edit time entries or manually add time logs if needed. A good time tracker app lets managers correct recorded time if there is an issue, for example, when an employee accidentally leaves the timer running while taking off for lunch. It should also allow managers to add a block of time the employee could not record due to network or other issues.
Real-time tracking – A good time tracking apps lets you track in real-time. You have a running clock that you launch when you start a task. It shows how long you've worked. You should be able to pause or stop the clock when you finish your work. When you restart the app after stopping it, a new block of time is logged.
Work on all devices – the app should work on any device your employees use, including tablets and mobiles.
GPS tracking on mobile – if your employees work in the field, the mobile app should be able to track time by location. Only a handful of apps like HiveDesk have this feature.
Automatic screenshots – you will not find this feature in most apps but it's an excellent tool for monitoring employee productivity. Besides recording accurate time, the app takes random screenshots of employee's computer. These are handy for reviewing an employee's performance, ensuring she is using the correct tools & processes, and for providing feedback.
Generate online timesheets – There is no use of employee time tracking if you have to manually create timesheets. A good app like HiveDesk generates automatic and accurate timesheets you can use for billing clients, tracking attendance, and paying employees.
Activity tracking – a good automatic time tracking app monitors what employees do on their computer. It generates an activity graph that shows you when employees are active and when they are inactive.
Easily track time, monitor your team and increase productivity
Increase productivity, track time & cost, take screenshots, and bring accountability to your company with HiveDesk.
What are the benefits of tracking time?
Here are the benefits of using an employee time tracking software:
Accurate timesheets – due to automated time capture
Increased employee productivity – when employees know you are monitoring their work, they become more productive
Improved visibility into project status – get up-to-date information on time spent on projects and tasks completed
End to time theft – employees and contractors cannot make up hours anymore, saving you unnecessary overpayments. You can track attendance and see when an employee was working, and when he was absent.
How to save time on timesheets?
It's great to have your timesheet filled out automatically. It's more accurate and saves manual effort. Most employees spend up to 5% of their time on filling manual timesheets. They also make errors that can cost you an additional 5-10% of time.
HiveDesk's non-intrusive desktop app works in the background so you and your team can focus on actual work, not filling up timesheets.
How to bill clients for hourly work?
With HiveDesk, you can set up billing rates for your team members.
You get not just billable time but also billing amount for each project that you can easily turn into invoices. All you need to do is make adjustments for out-of-pocket expenses and tax rates for your country.
Your clients will love accurate invoices. In case they have any questions, you can use the screenshots from employees' computers to back up the invoice.
Why use HiveDesk time tracker?
There are many reasons to use HiveDesk time tracking software. Here are the main use cases:
Tracking billable hours: helps agencies, lawyers and others who bill clients by the hour
Tracking employee time for paying hourly employees and contractors: use it to create accurate payroll data.
Improving employee productivity: time tracking helps employees with poor time management skills to become focused and productive.
Automating timesheet or time card management: one of the most used features of HiveDesk is the timesheet. Hivedesk automatically generates timesheet for projects and employees. With automated time tracking, the timesheet data is accurate and reliable for billing clients and paying employees.
HiveDesk time tracker is rated 4.5 stars on Capterra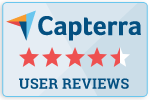 "Great tool for outsourced staff!"
HiveDesk is an amazing tool for business owners that are using outsourced staff. It gives you the ability to see the screen shots of what your staff is doing as they are logged in, report hours, keep them accountable, organize your time by projects and print off payroll reports.
– Brook B. Owner
Executive Office, 1-10 employees
Used the software for 6-12 months
"Keeps honest people honest."
In today's world, remote work is a given. We use this software to handle those challenges. We tried a lot of the competitors and for many reasons HiveDesk won. Plus, team loves their support. Fast and attentive.
– Dave M. CEO
Computer Software, 11-50 employees
Used the software for 2+ years
Try HiveDesk free for 14 days. You don't need a credit card for the free trial.